You Need To Know 8 Festivities And Unique Attractions At Oktoberfest Celebrations In The US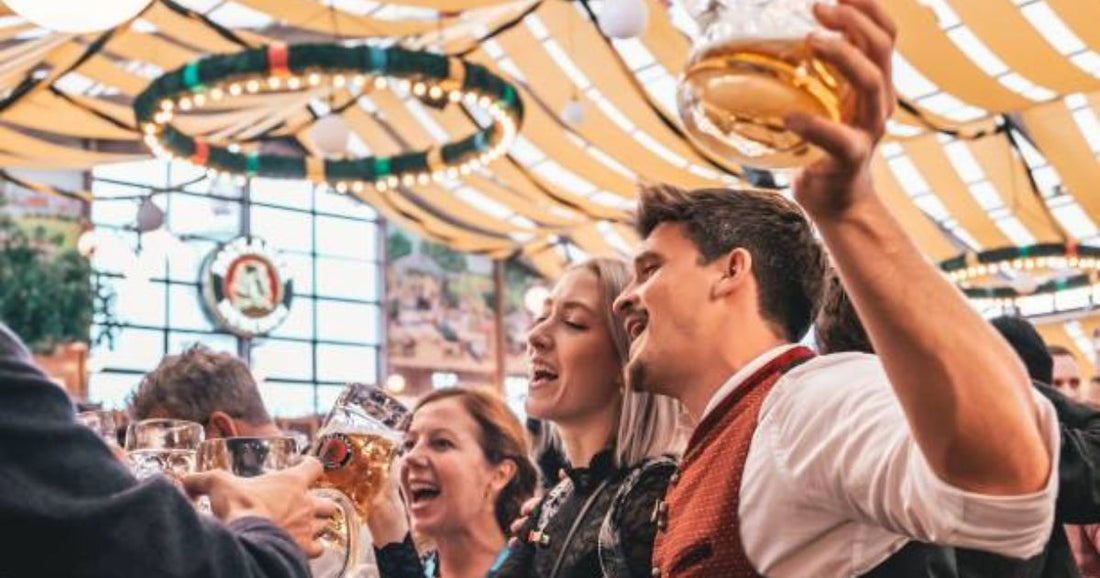 Everybody knows Munich organizes the largest beer festival annually for around three weeks. You can take out your Men's Authentic Lederhosen and dirndl and accompany your German friends to this festival, but it's not essential to do it now! 
But why would you do that if your own country organizes a copy of Oktoberfest in different cities with all details required for the festival. It is also an official event now as per the government allows it. Although it is not just about drinking beer, this festival connects us with German culture and its heritage, German outfits, traditional cuisine, and parades. 
Did you know that the first Oktoberfest was not a beer party but rather was held to honor the marriage of Prince Ludwig and Therese of Saxe-Hildburghausen in 1810? 
Fun Fact: The wedding party ended with a horse party back then. 
Beer Consumed From 2015-2022
A recent survey found that millions of liters of beer have been consumed at this festival in Munich, Germany. You can see in the chart below that from 2015 to 2022, the years 2020 and 2021 are missing because the festival was canceled due to the Coronavirus pandemic. 
| | | |
| --- | --- | --- |
| S.No  | Year  | Beer in Million Liters  |
| 1 | 2015 | 7.3 |
| 2 | 2016 | 6.6 |
| 3 | 2017 | 7.5 |
| 4 | 2018 | 7.5 |
| 5 | 2019 | 7.3 |
| 6 | 2022 | 5.6  |
Did you know that Adidas has released vomit-proof sneakers, particularly for Oktoberfest, a limited edition, as so much beer makes people feel sick and spit up? 
Read more: Tick off activities at Oktoberfest 2023
8 Fun Filled Activities at Oktoberfest Celebrations 
Barrel Rolling Competition (Fassrollen) 
Show your potential in this competent inner spirit with the most exciting barrel rolling contest, Fassrollen. This Oktober unleashes your potential to become a speed and skill. In this contest, beer drums are used for rotating to win it. Get ready in your perfect Premium Deerskin Lederhosen.
In this competition, two members are paired to form each team, and each team is provided with a standard-size beer barrel. Then one of the team members rolls the barrel till halfway to the destination. After that, the second player is handed over the barrel to reach the final destination.
The team that successfully reaches the finish line first is the game's winner.  
Pretzel Tossing Game (Brezel Werfen) 
The pretzel tossing game, also known as Brezelwerfen, is fun for all ages. Here are the ways to play this game. Teams are formed, and each member has to stand facing each other about 6 to 8 feet apart. One team member holds the pretzel, and the other holds the Bavarian walking stick or Stecken. 
The goal of this game is for the person holding the pretzel to toss it on the Stecken, held by the other team member horizontally. Each successful toss earns points for the team. After several rounds,  the team with the highest scores wins. 
Sausage Eating Contest 
German traditional sausage eating contests are fun among other Oktoberfest activities apart from wearing Lederhosen or Dirndl. Get yourself more participants to test your appetite. 
Here is how to deal with this contest. Ask participants to gather a long table on which each participant would have a plate piled with traditional German sausages. After the whistle, the participants begin eating the hot sausages. The time duration is mostly 1-5 minutes. 
Also, the participants must eat the sausages with their hands only without using utensils. The one with the highest sausage consumption is the winner of the contest. 
Devil's Wheel 
Devil's Wheel is not an activity to bring your family in. It is another fun yet thrilling activity in Oktoberfest that people of younger ages usually enjoy. 
A large round spinning wheel is called the Devil's Wheel; step onto that large Wheel. You must maintain your balance and have a good grip to stay in the same place until the operator stops the rotating Wheeler participant, who stayed for a long time while spinning, is the winner of the Devil's Wheel. 
In addition to the rotating Wheel, remember that the operator can change the spinning directions to throw off from your position. Let's check your stamina. 
Did you know there is an on-site red tent at Oktoberfest for medical emergencies? Around 5.8K people needed medication in 2018. 
Yodelling Competition 
It is another lighthearted competition in the Oktoberfest that brings smiles to everyone's faces. So here is the deal breaker, you register yourself for the yodeling contest with many friends. You have to showcase your best yodeling skills to the judges and audience. 
Judges would rate performance on ability, skills, enthusiasm, and overall entertainment value of the performance. The participant or group with the highest entertainment score would win the Yodelling champion. 
Oktoberfest Parades
Parades are a popular feature of many Oktoberfest events. Marching bands, German costumed performers, elaborately decorated floats, and community groups representing German heritage are all part of these processions. The parades add a vivid spectacle to the event while instilling a spirit of community and joy.
It often features a diverse background of individuals. Local community groups, German-American organizations, dance troupes, marching bands, historical societies, and even representatives from German corporations can be among them.
Participants wearing traditional clothes such as Women Dirndl Blouse and lederhosen enhance the parade's visual spectacle.
Traditional Food Stalls 
Oktoberfest events in the United States are well-known for their delectable food choices. Classic German meals such as bratwurst, pretzels, sausages, schnitzel, sauerkraut, potato pancakes, and traditional desserts such as strudels and Black Forest cake are available at food stalls. While traversing the festival grounds, attendees can sample these distinct delicacies.
Some classic traditional German dish names include Bratwurst, Pretzels, Sauerkraut, black forest cake, Schnitzel, and Weisswurst. Everyone enjoys this yummy traditional German food as it is really tasty.
However, you may also find some other options, such as vegan dishes or vegetarian along with other meat choices, to indulge a wider range of attendees in fascinating Oktoberfest delights. 
Multiple Beer Tents 
Oktoberfest is known for its large beer tents. These massive structures feature long communal tables where people can congregate and enjoy a wide variety of German beers on tap. The beer tents provide a lively vibe, with live music contributing to the energetic ambiance. 
However, the tents are created according to the expected guest to accommodate attendees without a mess. Moreover, there are different kinds of beers available at Oktoberfest. You can have them according to your taste. 
Fun fact: It's acclaimed to be among the finest beers in the world, and is brewed with only three ingredients, according to Bavarian Purity Requirements: water, barley, and hops.
Wrap Up
These diverse live entertainment options and unique attractions combine to create an immersive Oktoberfest experience in the US. They allow attendees to celebrate German culture, make them feel included by wearing their traditional German Lederhosen clothes, indulge in delicious food and beverages, and partake in lively festivities that make Oktoberfest a memorable celebration for all.
It is likely a family festival that is good for all ages and provides a refreshing and pleasant feel.If you are looking for a Lederhosen costume, then you can look at the Oktoberfest wear. They have an amazing collection and customized sizes if you want to change or alter them.